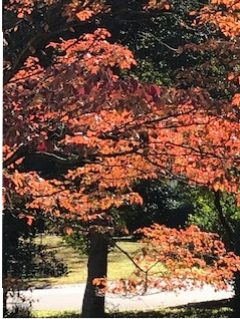 Finally, after four months of wandering in the wilderness,–in a transition from finishing the book I was working on through a landscape I'd call "I don't know where I'm going or what I am to do now"– I heard God speaking to me about a new direction. This happened at the end of September this year much to my wonder and amazement.
In June I had turned over my book on the poor and needy in the Bible to the editor. By August she had reported to me that it wasn't up to my usual standards. In the midst of this transition which had me re-experiencing a lot of early-in-my-life suffering, I could hardly fathom what she was saying. I didn't know what to do. So, I mostly just waited for God's word. And His healing of all that was bringing me to tears.
When I heard God a couple of weeks ago saying that this book about the poor and needy would become a part of a book with a larger purpose—one that asked whether we are believers in Jesus or His followers, I was very relieved. I like having a book to write, a big project that defines my life for a good long period of time. Even when I am not directly working on it, a book to be written still defines how I use my time. The Exodus book took four years to research and write. Maybe this one will take me as long.
The transition is over for now! Celebration turns to dedication to the research. So the first thing I am doing is organizing the content of the four Gospels to stimulate my thinking about how Jesus asked us to follow Him. I just finished outlining the Gospel of Matthew, three more to go! I figure that this phase of the research will take until the end of the year. And then the Lord will show me what to tackle next. Meanwhile, I am getting a great review of all these Gospel teachings. While I do all this research, the teachings and what Jesus did will slowly percolate in my mind, suggesting me a direction of where to go with this theme.
As I write my blog and the books, I keep a sharp ear attuned to what God is whispering to me. I don't think of myself as the true author of what I write, nor am I just a scribe. I have a partnership with the Lord, I often describe it like this: He is the pilot of the airplane that is my life and I am His more-than-willing co-pilot. I defer to Him all the time for direction and ideas. And then I do the writing and editing, always checking to make sure I am consistent with His plan.
As I see it, He carries the burden of the whole picture, I execute the writing. He sets the timing and the stage, He insures that the message will be heard by those who need to hear it. I am free just to follow Him, but if that sounds like a cop-out, it isn't. I am so grateful for the work He has given me. I am learning as I am writing. I am growing and changing and evolving as He sets task after task for me. I never feel bogged down by anything He suggests; really, I am  fulfilled by what He asks me to do.
I walked the labyrinth at a nearby church on Saturday with two friends. I was reminded of how the labyrinth so imitates life for us. First, I kept running into the friends and then not seeing each of them for a while. Or we'd be walking parallel courses for a bit and then turn in different directions. And all the turns in the labyrinth reminded me of all the transitions we go through in a lifetime. Just when we think we are settled into a great way for us, then life changes, throws a curve ball, however we might experience it. As in this transition to a new project, it's been a rocky road for me with no clear direction for a while, but still I knew that the Lord would come through at some point with peace and a project or something else to do.
It is a wonderful process for me to see how a book project evolves and how my thinking evolves with it. It is all part of the training program that God has designed for me. What is your training program directed by God like?