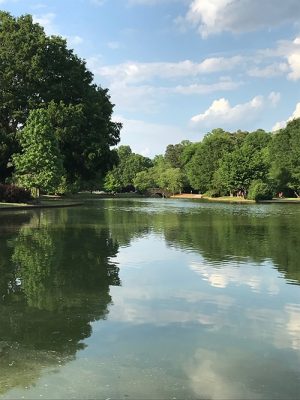 It's been such an interesting month or so for me. I've been wishing so much that I could know what was going to happen in my life. I've been going back and forth with God about this. And two weeks ago, I swear I heard God laugh at me! He said that I am just not made this way, needing certainty and knowledge about the future. I am impulsive, intuitive, grasping things before they make sense to others—an ENFP on the Meyers-Briggs—and basically not needing a plan, just needing to follow my own intuitive/God-inspired self. I had to laugh, too! That's exactly who I am.
He reminded me of a prayer that a reader of my blog once shared with me—to praise God in advance for what He is about to do in my life and in others' lives and in the world. That praying this way takes us away from the need-to-know into a real faith in the providence of God and so I've gone back to that practice.
A few days later I was driving up to the North Carolina mountains asking about the TMJ I am experiencing which seemed worse on the trip up. Was I not eating right or what? The answer was that I am not able to take in all that the Lord is telling me. Do I get 50%? Yes. 75%? Yes. 90? Yes. The other ten is the love He has for me. I still am not taking that in. So I set my intention to feel His love in all my cells and deep in my bones—amid the tears I was shedding. I had been only hearing what He was telling me about my work, but just not what He has for me!
As I was about to leave the cabin for home I felt I should draw an angel card which might reveal the roots of the rosacea breakouts on my face. I drew "obedience." The rosacea is related to the TMJ I am experiencing. Now, how the face/jaw/outbreaks relate I'm not sure, but chewing on ideas has something to do with it as does these obvious facial problems. I am the one who cannot see—this is the root of both problems, I sense.
And then a couple of days later I am sitting on my couch looking out onto the patio and the roses that I love. I feel like I am being asked to walk off a cliff, one last surrender that will complete this part of the journey. And so, as I sat here on this couch, I walked right off the precipice and committed myself to following Christ no matter what, no objections, only keeping pace with whatever or however he leads me.
As I say, it's been an interesting month. I am so dependent on God to reveal the depths of my resistance, and sure enough, He does. As I work at understanding what He is telling me, He is working on healing what He has revealed. And so the journey goes
If you're interested in deepening your faith in God, look at these books: